Roebuck
Roebuck is an educational app for users of all ages, offering key survival skills and the ability to memorise them in preparation for emergency situations.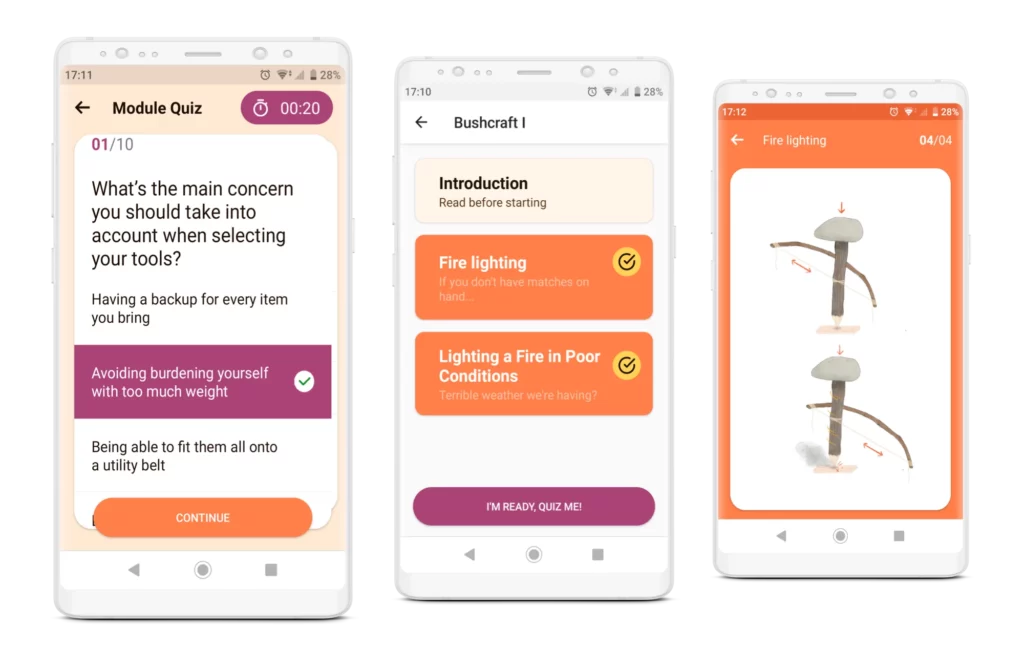 Problem
The founder of Roebuck felt inspired to create a mobile app that helps everyday users learn and remember vital survival skills following the Coronavirus pandemic that brought the world to a standstill in 2020. After his own experience during a blockade, and the global death rates brought about by the pandemic, the founder realised that it is very important for people to pre-empt dangerous and unexpected challenges and that users can benefit from the knowledge that may prove to be crucial or life-saving in certain unavoidable predicaments. The founder of the Roebuck app required the services of a development agency to bring his niche concept to life and ensure that the knowledge and skills he wanted to offer were easily accessible to all.
The skills and information that is available to users on the Roebuck app range from the basic art of bushcraft, demonstrating how to start fires or build a shelter, to dealing with health emergencies such as bumps, bruises and even giving birth to a baby outside of the hospital. The information is accessible to all users, without the use of technical jargon, offered in small sections with a simple and engaging user interface. Users can test their knowledge once they have completed the module preparing them for unexpected situations that they may encounter.
Our Solution
Users can decide how advanced they'd like to become or how far they'd like to extend their knowledge. Despite there being many apps that offer survival skills, Roebuck is one of the few apps that actually encourages and teaches users how to remember the knowledge they have been presented with. The app is filled with attractive illustrations and visually appealing aesthetics that help users memorise new concepts in a fun and engaging way.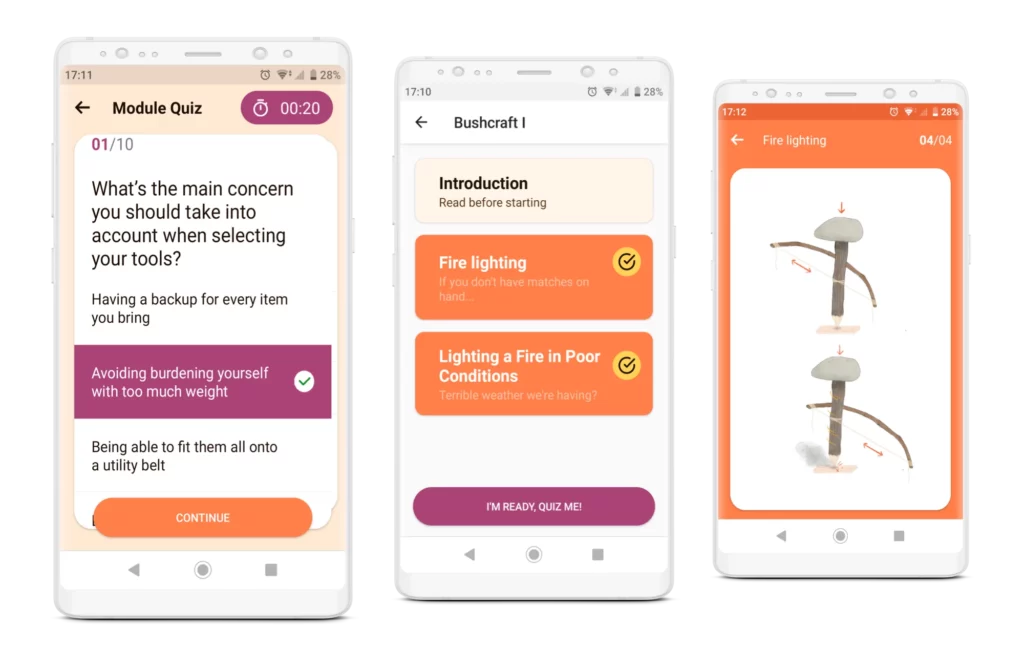 Our Process
DEVELOPMENT
Our developers worked collaboratively with the Roebuck founder and his internal team to ensure we incorporated all of the features and functionality required, offering an optimal user experience and product. We incorporated push notifications to alert users with reminders about new features and new content in the app including reminders to complete their modules. The application is free to all Android users, but users can pay for premium features if they'd like to receive more app content once they have completed the free modules.
Begin with the basics and level up your survival skills
Work through and complete the learning modules
Roebuck is full of illustrations to help users remember new skills and concepts
Push notifications remind users to complete outstanding modules and notify users about new in-app enhancements and content